Active Fuel Management (AFM) was invented to improve gas mileage by reducing fuel consumption. But the failure list of AFM is long. So the AFM disablers were brought in to provide some roundabout solutions.
But getting the right information about disablers and the issues that come with them is a challenge. Fortunately, many AFM disabler forums are out there to provide you with solutions and productive discussions. Here are our top 3 picks for the Range AFM Disabler forums.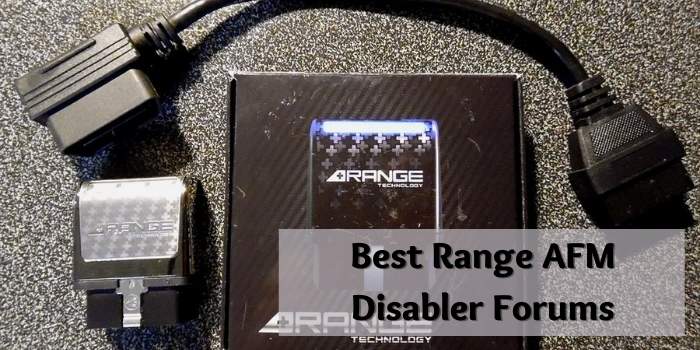 The Corvette Forum is one of the most popular forums out there to provide you with effective solutions, with over 537,000 members. Corvette has built a large support network with a total of 3,828,218 threads and an astounding 53,833,350 posts for various discussion topics, including the Range Technology active fuel management disable device.
As a guest user, the Corvette Forum lets you view their threads. But if you want to be an active member of the network, you have to register with their network. Whether a guest user or an active member, Corvette allows you to search within the community for different discussions.
What I love about it is that, since it is a large network, there is always someone active to help you out. Search for "Range AFM Disablers" and the forum will aggregate all the threads regarding the topic and present it to you. You can open any thread regarding the topic and see if you can find your answers in them. But if you can't find it, then simply register to post your query.
The Stingray Forum provides discussion threads dedicated to the Corvette Stingray's purchase, maintenance, and performance. With 358,000 posts, Stingray provides up-to-date solutions to its active community.
Search for the topic you are looking for with the help of the forum software and search function. To give an example, search Range AFM disabler, and Stingray searches for this topic throughout the forum and presents it to you as a thread. Just like the Corvette Forum, the Stingray requires you to join their community if you wish to post queries. You can join through a Google or Facebook account to participate in AFM disabler threads.
Or, you can register manually into the forum community. Once you register, you can post general information useful to others, or you can post your issues for others' input. Stingray also provides an advanced search option to customize your searches. It would be better if the forum could be accessed through the app on mobile device.
The GM Truck Club forum is a dedicated forum for all General Motors truck owners to discuss performance, maintenance, troubleshooting, modifications, and so much more. The GM Truck Club forum is a large community with over 78,000 members. It has several threads, such as: Chevy Truck tech forums, Range disabler, Chevy SUV Range technologies & crossover tech forums, general tech forums, etc. Members can comment or post reactions on them.
All the threads together accumulate a total of 858,000 posts for your reading. You can join this community for free through your Google account. Even if you do not join the community, you can view forum statistics, previous discussions, and check if the existing discussions contain what you are looking for.
But if you are interested in posting general information or you are having some issues and want others' opinions, you must register first. Since registration is completely free, it is convenient too. Upon registration, you can view previous discussions on various vehicles and their parts, add your own feedback, like or quote a certain answer, or share it. It has an advanced search option that lets you customize your searches to get better results.
Conclusion
Forums are great places to look for solutions since they connect people across the world. Not only does it help you with multiple solutions if you stumble upon a problem, but it also creates an opportunity to be a part of a bigger network.
Recent Posts:
Range AFM Disabler Problems and Solutions in 2022
We Tried Best AFM Disablers in 2022 | Here're the Winners
How to Disable Active Fuel Management
How Do I Know If I Have Active Fuel Management? Find Out Now!