Stretching is, without a doubt one of the riskiest additions to the tires of your car. While it's true that stretched tires look super sleek in a car, you must pick the right kind of tire for stretching. You can't simply pick a random tire and stretch it- the rubbers aren't always designed for additional width.
There are tires specifically made for stretching purposes, and you'll have to pick a feasible one from them. In order to save you from a potential accident, we've enlisted a few top tires that will serve your purpose and add an extra layer of swagger. Time for you to check our list of the best tires for stretching!
Best Overall: SUPERMAX TM-1 All-Season Radial Tire
After doing thorough research on almost all the tires in the market, we have come to a conclusion that Supermax TM-1 is the best overall choice in this sector. This very tire is specially designed for SUVs and passenger cars. It comes with increased rigidity and excellent stability, so you won't have to worry about balance, acceleration, or brake issues while using it.
What's more- they've reduced the tire noise and added a tread pattern design to enable smooth driving even in dire conditions. Overall, they're a top pick for anyone!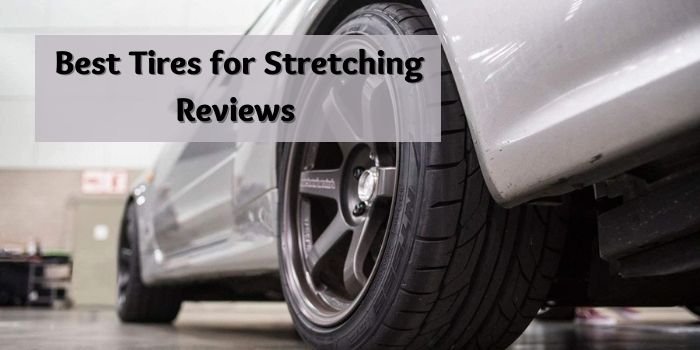 How to Choose the Right Stretching Tires
Tire stretching needs to be done as carefully as possible. And in order to do so, you need to buy the right kind of tire for stretching. This is why we've added a few key factors to consider before purchasing these tires.
Compatibility
If the tires don't fit onto your rim size, then there's no point buying them- you won't be able to stretch them anyways! This is why compatibility is essential. Thankfully, stretchable tires come in various sizes, so all you have to know is the exact rim size of your car and then pick a tire that fits well. If you find it difficult, just contact a mechanic, and he'll assist you with the measurement!
Functionality
Let's be honest; new tires won't come in cheap. You'll have to pay around $250 if you're looking at a set of four tires, and that's the bare minimum. Since you'll be paying a good amount of money, you must check if the tires function well or not.
In order to check that, first, you'll have to ensure that the tire comes with the correct treads. It's because treads with more grooves will allow your car to have much better traction while driving on bumpy roads. A proper tire should have a solid center rib in order to give the car directional stability and improved handling. You should check if your preferred tire has these functions or not.
Year-Round Usage
As a car owner, you should be looking for tires that can serve you for as long as possible. Many people opt for all-season tires because of this reason. We also recommend you pick a set of tires that you can use all through the year without any hassle. This is where all-season tires get the edge over their competitors- they're quite inexpensive and can easily survive the whole year!
That being said, you'll have to ensure that the all-season tire you're purchasing has all the functions working. For example, tires with large tread blocks, water ejecting system, and deeper grooves have a greater chance of surviving the year than regular tires.
Top Tires for Stretching Comparison
Now that you have a basic idea about the factors to consider before you buy a stretching tire- time to explore the best options around you!
1. SUPERMAX TM-1 All- Season Radial Tire-215/60R16 95T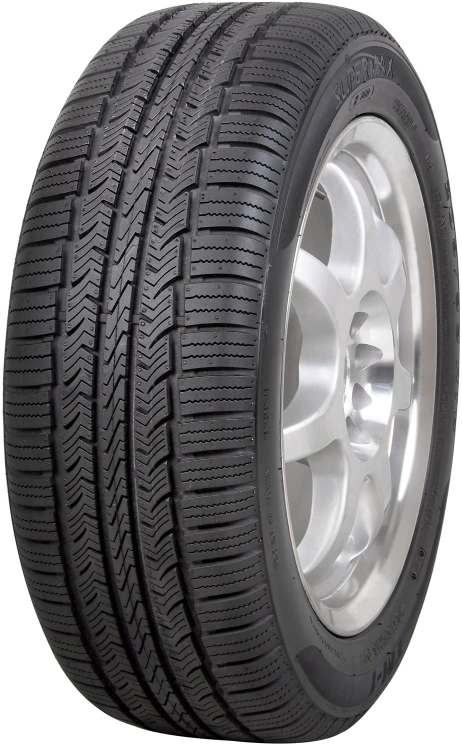 Many people tend to spend as little as possible when it comes to tires. Keeping that in mind, Supermax came up with TM-1, an all-season radial tire that comes at a very reasonable price point. But that doesn't mean it lacks the necessary features! As a matter of fact, they have an optimal level of performance and functionality.
These are long-lasting wheels that can get you through rough and rocky roads. As mentioned in the title, this is an all-season tire that can provide you with top performance on both dry and wet roads. TM-1 has a unique tread design, and it helps the tire to clear out the dirt and mud on the streets. Moreover, the treading helps the car to get better traction.
But that's not all! The tire has a reinforced rib pattern and a solid centerline to make sure you have solid control over your vehicle. SuperMax made these sets of tires in a special way with a high-quality rubber compound, so stretching with these tires would be as easy as anything! Pulling off 1-2 extra inches is no joke- and you can do that on these tires with ease.
Moreover, the tires don't make a lot of noise as they were engineered to reduce noise as much as possible. Imagine riding a sleek-looking car with stretched tires while enjoying to the music on your stereo- a surreal experience for sure!
Pros
Unique tread design to ensure better traction
Has a comparatively low price point
The tires are very fuel-efficient
Specially engineered to reduce the noise level
Provides your car with excellent handling
Cons
Doesn't have the best looks
---
2. MICHELIN CrossClimate2 All-Season Radial Car Tire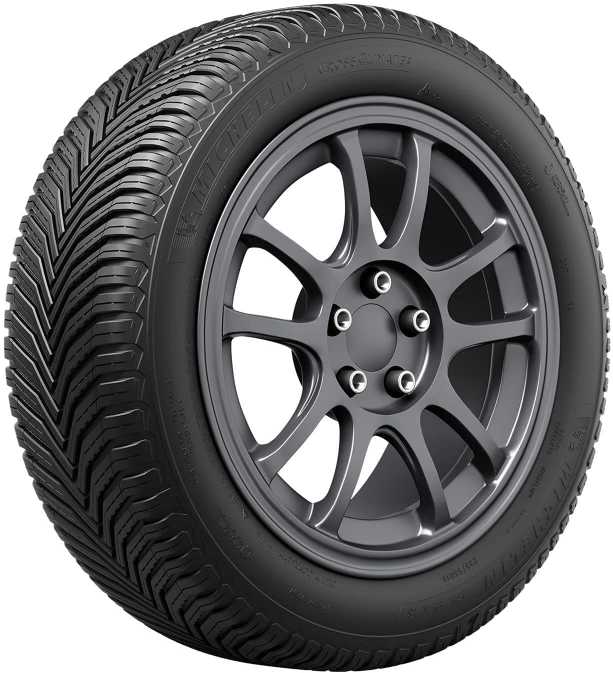 If you're looking for the safest possible option among these tires, then this is the one. According to various reviews, this very tire, with its exceptional tread design, provides you the safest ride possible. This is because the tire can resist hydroplaning and can drive through wet roads with ease, even if it's worn out.
Perhaps the best part about this very tire is that it has a long tread life, and it can adapt to any sort of road condition. The tire brakes shorter on difficult roads like a dry road or a bumpy road. Its tread compound gives you excellent snow traction for a long, long time. Be it rain or snow- the tire will go on for more than a whole year.
Michelin added directional tread patterns on these tires in order to remove surface water while driving on wet roads and also to optimize road contact. The tread design has a V-formation, which enables these tires to carry on even after being worn out. It also has a 3D SipeLock technology to enhance the treadwear resistance and a noise reduction system to minimize tire noises.
Pros
3D SipeLock technology to improve tread wear resistance
PIANO Noise Reduction system to minimize noise disturbance
Amazing grip on brakes, thanks to the angled blocks
Directional tread patterns to easily drive through wet roads
Cons
Holds on to the dirt easily
---
3. Falken WILDPEAK A/T TRAIL All- Terrain Radial Tire-225/60R17 99H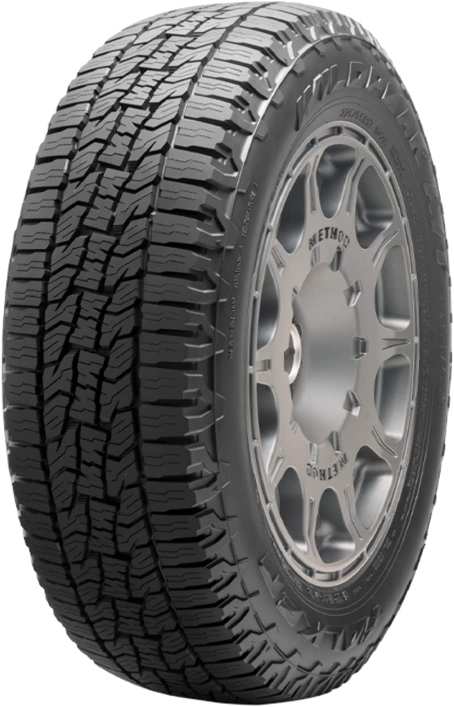 Since you're here for stretchable tires, we're assuming you're a bit of an adventurous person. If you're indeed one, then you'll love this one from Falken. This tire has impeccable off-road capabilities alongside open road expertises. It's engineered to be a cross between the usual all-weather tires and the aggressive off-road traction tires.
If you're looking for a set of tires that you can use both in highways and in bumpy off-roads with ease- then this is it. Coming with a 2-ply polyester build, the A/T Trail is indeed a very durable tire. It also has a rugger upper sidewall and an optimized tread design to ensure efficiency.
WildPeak A/T has been deemed capable of facing severe snow and snowy roads, so if you're in for a bit of adventure, this all-weather tire will come in handy.
The tire has quite a high center of gravity, so you can be sure of better handling while using them. Moreover, the 3D Canyon Sipe technology helps it survive the winter and snowy roads.
Pros
2-ply polyester used in the construction to enhance durability
3D Canyon Sipe Technology to enhance winter traction
Excellent tread design to increase the wear life in different temperatures
Rugged upper sidewall to save the tire from off-road terrains and rocks
High center of gravity to enhance handling
Cons
Doesn't have noise reduction features
---
4. Falken Ziex ZE950 All-Season Radial Tire – 235/45R17 94W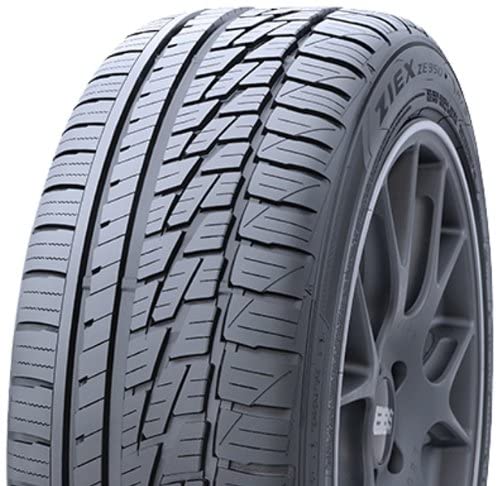 This is what we call an all-rounder tire. Be it dry, wet, or snowy tracks- this tire can survive anything, and you can ride with ease. The Ziex ZE950 from Falken is set to give you consistent performance in all seasons throughout the year.
This is made possible because they use the famous 3D Canyon Sipe technology to ease past ice and snowy roads. This technology enables the tires to get ample ground that they can hold onto. Moreover, the tires have improved traction that, enables the braking process much easier, even in the snow!
But that's not all! The manufacturers went further and improved the mud and snow grip by including wide-angled slots on the treads. Moreover, the tires have edges to eject water out and help the driver with handling. They use top-quality rubber in the construction, and the tires come in many different sizes.
Pros
Tough and effective tread design to let the driver have enough control
3D Canyon Sipe Technology used to drive through muddy and snowy roads
Comes with a wide range of tires in different sizes
Improved braking and traction helps you drive past bumpy tracks
Capable of surviving all the seasons in a year
Cons
A bit expensive compared to others
Might get a little noisy at times
---
5. Nitto NT555 G2 all_ Season Radial Tire-315/35ZR20 110W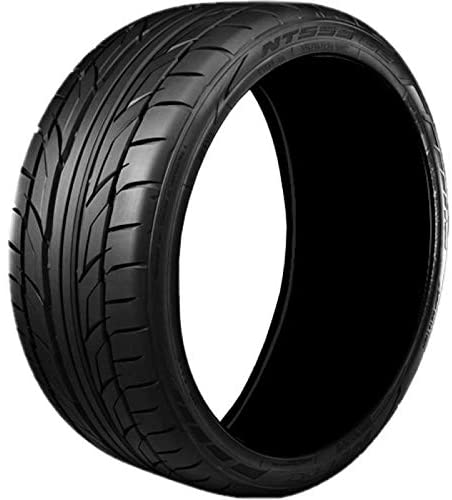 Here we have a premium all-season tire that is a great choice for stretching. These are high-performance tires with twin center ribs for enhanced gripping and proper dry traction. Doesn't matter if you stretch the tires or not- they'll still come in handy while going through difficult roads.
This additional grip enables the tires to have proper dry traction and adds a bit of stability to the car. The tires have large tread blocks, so it grips onto the ground quite well while driving. Since the tires come with more surface area, you get decent control in both wet and dry surfaces. Overall, with this tire, you get a quiet and pleasant riding experience.
Pros
Provides a noise-free and comfortable ride
Comes with dual center ribs that enhance grip and stability
Engineered to suit high-performance, top-class cars
Large tread designs to improve control and traction
Cons
A bit too expensive considering the features
Doesn't work well in mud and snow
---
6. Achilles MAB224018 ATR Sport 2 Tire – 225/40R18 92W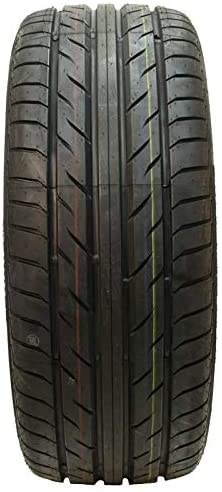 Not a lot of tire brands can claim that their tires provide durability, excellent tread design, and reliability at the same time. Achilles does. The ATR Sport 2, one of the best creations of Achilles, is probably one of the best options for high-performance vehicles. From the unique interlocking tread design to all-weather support and inexpensive price- we've found this tire to be a great option for you.
The interlocking tread design enables your vehicle to have directional stability, which is crucial while driving through rough terrains. Apart from that, the tires have a water channeling ability, which keeps the tires clean from sand and mud. The tires come in different sizes to fit into rims, and they can perform in all weathers.
However, this isn't the best option for extensive stretching, as it might lead to deflating or a blowout. But if you're stretching at a normal amount, it should be fine.
Pros
Exceptional water channeling to keep the tires clean
The versatile tire comes in a lot of different sizes
Rugged and tough tread design to withstand adverse weathers
Interlocking tread design to ensure control and traction
Comes at a very reasonable price point
Cons
Not compatible for extensive stretching
---
7. Fullway HP108 All-Season Performance Radial Tire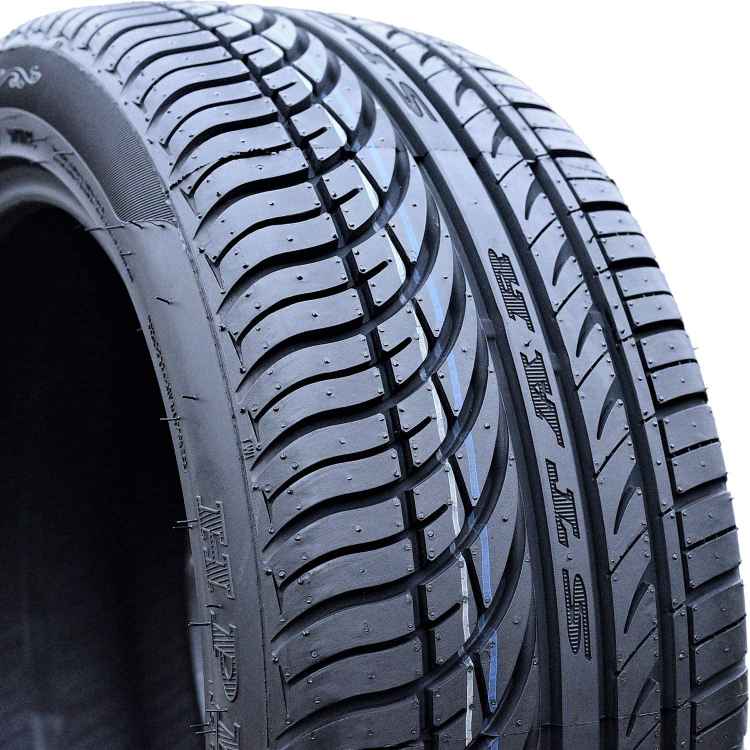 Fullway is a very well-known tire brand known for producing top-quality tires using high-end materials and the latest technology. This one is no different, as it is a high-performance, all-season tire that comes in many different sizes to fit in all sorts of cars.
This tire brand comes with reinforced sidewalls that specializes in guarding the rims against any sort of accidental damage. You'll get excellent year-round traction with it, and it doesn't wear off very easily as it can resist hydroplaning.
If you're looking for a smooth and quiet driving, then this can be a great option. The unique tread design of these tires can minimize road noise and vibrations. Moreover, its excellent surface contact enables the driver to have better control of the car. In short, this is a classic tire for stretching- and even if you don't stretch it, you can still use it and get premium satisfaction.
Pros
Excellent handling ensured by the tread pattern
Lowered road noise and vibration guaranteed
All-weather surface traction features
Amazing road grip enabled by the unique treading
Cons
---
FAQs About Streching Tires
1. What is tire stretching?
Ans: In simple words, tire stretching refers to fitting small tires onto relatively wider wheels. The span for stretching revolves around 1-3 inches in length. Many people prefer this because of the suspension options and that stretched tires look pretty sleek on a car. Tire stretching, in general, reduces the appearance of the car and adds a minimalistic look to the vehicle.
2. What are the disadvantages of tire stretching?
Ans: The risk factors are very high with stretched tires. Driving a car with stretched tires can be very risky since the sidewall supports less weight due to the stretching. If not driven carefully, the sidewall may get torn, so it can be a bit of a hassle for many car owners.
3. Is tire stretching illegal?
Ans: Yes, in some states of the US, using or selling stretched tires is considered illegal and is a crime. This is why you need to have a clear idea about the state laws before you start using stretched tires; otherwise, you might have to pay a hefty amount of fees!
4. Can You mount a tire at home?
Ans: Yes, tire mounting is possible at home. The problem is not every household has the necessary tools for tire mounting, and if you're not a professional, it might take up a long time. That being said, it does save a lot of money if you have a basic idea about tire mounting, so you sure can try it out!
5. Do stretched tires wear fast?
Ans: Definitely. Stretched tires often lose grip faster than normal tires because it has a relatively tiny diameter considering the rim. If you drive on a regular basis, then the chances of wearing your stretched tire out fast are quite high.
6. Are stretched tires more maneuverable?
Ans: We don't think so. As a matter of fact, the sidewall transitions of a stretched tire are more rapid than the normal ones, so the driver has to be very careful while driving with stretched tires.
7. Is it possible to Stretch tires on standard rims?
Ans: Yes, but it would be difficult. Most standard rims don't give you the chance of tire expansion, but you still can try. The equation is simple- if the tire is 20 mm wider than the original rim's stock, then you can stretch it. Otherwise, you can't.
8. How safe are stretched tires?
Ans: The safety issue regarding stretched tires depends solely on the amount of stretching. As we've mentioned earlier, if the stretching goes wrong and the tire is wider than the intended size- it can result in various problems like blowouts, tire deflation, and alloy curbing.
Conclusion
Now that you've gone through all of the best tires for stretching, it's time for you to pick a suitable one for you. If it was up to us, we'd probably have picked our best overall- the SuperMax TM-1 tire because of its overall performance and reasonable pricing. But it' up for you to choose, and we hope you can pick the tire that's best for your car!