High-quality brakes are a must-have to get good performance from your vehicle, and that's why you need to pick brakes for your car carefully. Because there are countless brands selling brakes, picking one can be a very overwhelming and confusing experience. Today, we're going to be talking about one of the most popular brakes that you can find in the market – Detroit Axle Brakes.
Brakes made by this brand are very popular, but are Detroit Axle brakes good in real-life usage, or is it just overhyped? Let us find out everything in detail below!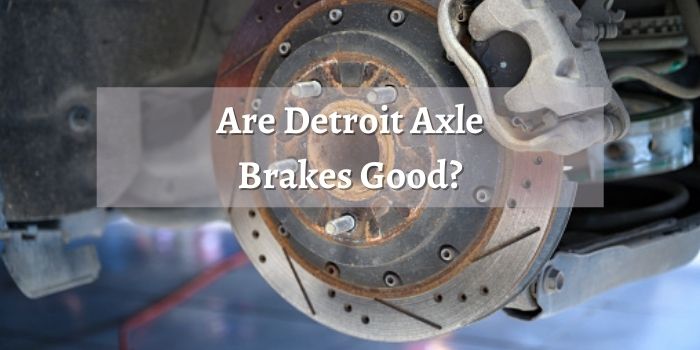 Buying Guide for Detroit Axle Brakes
There are a lot of variations in Detroit Axle brakes, so knowing how to make the right choice can be tough. Check out all the factors that we have discussed below to help you make the right decision.
Material and Type of Brake
There are a few materials that are commonly used to make Detroit Axle brakes, and they are organic, ceramic, metallic, and semi-metallic materials. If you live in a warm and dry climate, you may find organic brakes to be effective, but they're not durable at all. Furthermore, they have terrible performance in rainy weather, and so aren't very weather tolerant.
Metallic brakes are decent in terms of performance, and they also perform well in all weathers. However, the issue with them is that they make the rotors wear out very quickly. Semi-metallic brakes provide very similar performance as the Metallic ones, but they're slightly more durable.
The most long-lasting type of brake is ceramic brakes. Although generally, they are the most expensive type of brakes, they provide a smooth and quiet ride. Ceramic brakes also have excellent braking performance and thus excel in every way.
Stopping Power
Getting brakes that have good stopping power is important for your safety. You want brakes that will be able to stop your car in the shortest possible time to avoid any accidents. Especially for people who drive on icy roads, this is a crucial factor because the roads are very slippery, and skidding accidents are common.
Easy Installation
If you're replacing your Detroit Axle brakes by yourself, then you don't want to spend hours doing it. Hence, buying brakes that are easy to install is always a plus point. It's best if the brakes you buy come with additional hardware and clips needed for the installation. Additionally, a clear instruction manual with proper directions also proves to be of immense help.
Even if you're getting your mechanic to install it for you, getting brakes that are easy to install will be beneficial for you because the labor cost will be lower.
Comfort
Having a rough braking system can have a large impact on the riding experience and may even trigger motion sickness for some. On top of that, some brakes are very noisy, which can be annoying for the passengers and distracting for the driver. If you want the most comfortable and silent ride, then ceramic brakes would be a fantastic option.
Detroit Axle Brakes Reviews
Detroit Axle makes amazing brakes, and we're going to be reviewing 3 of them along with a list of pros and cons for each of the products.
1. Detroit Axle – Front & 262mm Rear Disc Rotor Brake Pad Replacement for Dodge Avenger Caliber Jeep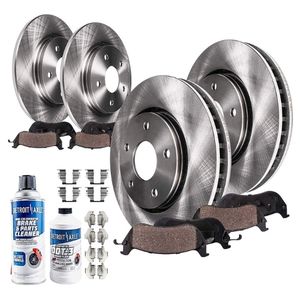 These brake pads come in a kit, so you get everything you need in the package. With the kit, you will be getting 2 front and 2 rear disk brake rotors and ceramic brake pads for both the front and rear with clips.
The ceramic used to make these brake pads are of great quality and ensure that the pads last a long time. On top of that, they are plated with Zin Dichromate, which prevents the formation of rust and thus improves the longevity of the product as well.
Front fitment is not an issue at all, and the rotors fit without any trouble. However, the rear fitment is a bit troublesome, and you are likely to face some issues there. These brakes are compatible with various car brands, and you must check whether they will fit your vehicle or not.
If you're installing the brake pads by yourself, having easy installation is a necessity, and fortunately, these Detroit Axle brakes are very easy to install. Detroit Axle has also done a good job at pricing this brake pad and has made it reasonable enough for most people to be able to purchase it.
Pros
Simple and easy installation
High-quality ceramic used for a durable build
Zinc Dichromate plating does a good job of resisting corrosion
No front fitment issues with the pads or rotors
Cons
May face difficulties fitting rear rotor and pad
---
2. Detroit Axle – 6 Lug Front Drilled & Slotted Brake Rotors Replacement for Ford Expedition F-150 Lincoln Navigator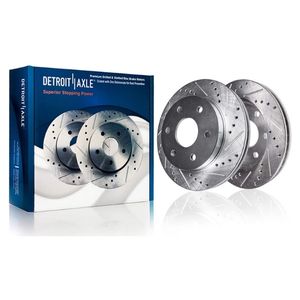 If you're looking to buy just some reliable front and back rotors, this item might be the perfect choice for you. This Detroit Axle package comes with 2 front drilled and slotted brake rotors. They are very conducive, so they do not result in the build-up of heat. These rotors also have a ventilation slot that lets out heat and additional heat that could damage the braking system.
The Zinc Dichromate alloy construction gives it a very sturdy build, and since these rotors are semi-metallic, they're even more durable. Because these brake rotors have a drilled and slotted style, they will give your vehicle extra braking power. Furthermore, these rotors undergo several fatigues and wear testing to ensure that they are built to last. Also, many see this unit as one of the best brake pads for WRX.
You won't need to buy additional tools for installation because they are included in the box. However, the bad thing is that there are no clear instructions which can make the installation for inexperienced people quite a difficult task.
Pros
All the tools for installation are included in the package.
Drilled and slotted design gives the rotors extra braking power.
Zinc Dichromate plating is very effective in preventing the formation of rust.
Meets and surpasses OEM specifications, which makes it a reliable option.
Cons
Lack of instructions makes installation a bit difficult.
---
3. Detroit Axle – Front and Rear Ceramic Brake Pads Replacement for 2012-2017 Ford F-150-4pc Set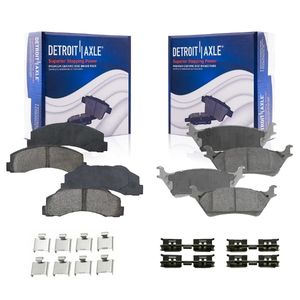 For those of you who want something that will give you the best value for your money, you might want to take a look at this Detroit Axle front and rear ceramic brake pads 4 pc set. These brakes pads will enhance your riding experience and will ensure a quiet and comfortable ride.
The installation is easy as the hardware clips included in the box are easy to fit, but the back pads don't fit as well as the other parts. You will be able to make these brake pads last more than most other pads in the market, thanks to their full ceramic construction. Additionally, the ceramic design reduces the amount of brake dust significantly, which means that these pads are very low maintenance.
One of the most attractive points about this item is that it is extremely affordable and also provides excellent braking performance. Before purchasing this kit you should know that these brake pads aren't very versatile in terms of compatibility, so make sure it's compatible with your vehicle.
Pros
Runs smoothly and stays quiet.
Ceramic construction makes the pads suitable for long-term usage.
Very little brake dust is produced, so it's quite low maintenance.
Comes at a reasonable price and offers great value for money.
Cons
The rear brake pad fitting isn't good.
---
Why Brake Pads from Detroit Axle are Popular
Brake pads manufactured by Detroit Axle are said to be very reliable, and so they are very popular. But you need to take a deeper look into some of the reasons why they're popular for you to determine if they're worth your money.
Suitable for All Terrain and Weather
People want brakes that will perform well regardless of where they are driving their vehicle or what time of the year it is. Detroit Axle brake pads have proven to be very reliable in all types of weather conditions and have performed very consistently even in places with snowfall.
They are durable and have a Long Lifespan.
With a lot of brakes in the market, you have to choose between braking performance and build quality. However, Detroit Axle brakes provide both of these things in their brakes. These brakes are known to last for several years without having to do any repairs or replacements, which means you will be getting your full money's worth.
Rusting is something you won't have to worry about if you get Detroit Axle brakes because they have a protective plating or are made from a material that doesn't rust.
Have very Low Noise Levels for Added Comfort
As you may know, most brakes made by Detroit Axle have ceramic bodies, and ceramic brakes make the least amount of noise amongst all the types of brakes. They also just have smoother braking, which can enhance ones riding experience drastically.
How to Replace Detroit Axle Brakes Pad
Replacing the Detroit Axle brakes pad is not a very complicated task, and all you need to do is follow our guide properly.
Step 1: Jack up your Car
The first thing you want to do is park your car on a flat surface and then lift it up using jack stands. It's next to impossible to replace your brakes pad without jacking your car up. By doing this, you will get more room to work with.
Step 2: Remove the Wheels
After the tires are in the air, take a tool and start unscrewing the nuts. Then, take all the wheels off.
Step 3: Open the Brake Caliper
So that you can reach the brakes pad, you will have to open the brake caliper by removing one of the two bolts holding it in place. We would suggest you remove the lower bolt.
Step 4: Remove the Piston
When removing the piston, you may easily damage it if it is attached to the brake's pad. To remove it from the brake pads, compress it using a C-clamp or a wrench.
Step 5: Take out the old Brake Pads
From the brake assembly, start to carefully pull out your older brake pads. Proceed with care, or else you might have issues when installing your new ones.
Step 6: Install Your New Brake Pads
Place the tabs of your brake pad on both the bottom and top notches, and repeat the same step for the other pad.
Step 7: Close up Everything
After you are done installing your brand-new Detroit Axle brakes, you have to close everything again. Close the caliper, and attach the wheels again by tightening the nuts with your tool. Finally, go out for a test drive to see if the new addition performs well.
Detroit Axle vs Power Stop Brakes
Like Detroit Axle, Power Stop brakes are very well-known in the automobile industry, and they are also known to have excellent performance. The brakes are in the same category in terms of price and have some key similarities. However, there are some stark differences that we must point out.
We think that the overall quality and the materials of Detroit Axle brakes are superior to the ones made by Power Stop. The ceramic brake pads by Detroit Axle brakes are much more durable than the semi-metallic/metallic brakes by Power Stop. However, both of them do a good job of resisting corrosion because they have protective coatings.
Detroit Axle is also a more versatile brand in terms of compatibility since they make brakes compatible with a greater number of vehicles than the other brand.
Detroit Axle vs Centric
Centric also makes some amazing brakes that can provide you with great performance on the road with regular use. These brakes do share some similarities with Detroit Axle brakes, but in this section, we will be focusing more on the differences between them.
If you drive your vehicle for extensive use, then Centric brakes would be a poor choice in comparison to Detroit Axle ones. The latter performs exceptionally well in all weather and road conditions, while the former struggles a bit. Centric brakes tend to wear out much faster because they are made from metallic and semi-metallic materials.
Because of the cheaper materials used for the construction, you get an advantage with the Centric products; that is, they usually have a lower price than Detroit Axle ones. If your budget is very tight, then going for the Centric brakes wouldn't be a bad choice, but otherwise, Detroit Axle is undoubtedly the winner.
FAQs
1. What Kind of Warranty Does Detroit Axle Offer?
Ans: The warranty of Detroit Axle products is what attracts a lot of customers. Most of their products come with 10 years of warranty or at least 5 years. The condition of the warranty varies depending on the product. Detroit Axle even has a 30-days return policy if you end up receiving faulty items.
2. Where Are Detroit Axle Products Made?
Ans: Detroit Axle is an American company, and their headquarters is in Michigan, but the parts are mostly made in China.
3. When was Detroit Axle founded?
Ans: Detroit Axle was founded in 1990, Dearborn, and then they moved to more towards the West of Detroit.
4. Who Owns Detroit Axle?
Ans: The CEO and co-owner of Detroit Axle are Mike Musheinesh, and another co-owner is Ahmad Musheinish.
Conclusion
After reading our article, there's no reason why you should be wondering are Detroit Axle brakes good. The answer is an obvious YES! You may find your match from the 3 of the brakes that we have reviewed from the brand today, or you may want to do some more research.
Nonetheless, Detroit Axle brakes are fantastic and surpass most other companies' brakes with ease in terms of quality!