For cycling enthusiasts, every detail of the bicycle would matter. Anything that could matter to or make better the whole experience of riding would be very much welcome. Pedals would be one such integral part that could impact your overall riding experience.
Knowing and having the right type of pedal would basically add to your overall comfort while cycling and, in some cases, impact the performance. While this would be very easy to figure out for an experienced rider, those who are new to the sport could find these small details overwhelming.
A popular alternative to this would be clipless pedals. Ironically this variety actually has clips that would be attached to the pedals. While this might be alright for advanced riders, it isn't the best choice for the beginners in our opinion. To begin with, they would require special shoes to work with them.
Then, since it sort of clips up, it would make it somewhat harder for you to get your feet off immediately- that could be a hazard for beginners. Let's make it somewhat simpler for you. Based on our experience and that of thousands of cycling enthusiasts, flat pedals are the way to go, especially if you are inexperienced or somewhat new to riding road bikes.
Now, flat pedals aren't one single type of pedal. There are a bunch of different varieties of flat pedals as well. Some are made of metals while a few others are made of plastic. Some are more durable and comfortable than others due to their design and make. Going through this article should help you at the very least shortlist a couple of them.
In this article, we'll talk about the best flat pedals for road bikes. In this article, we'll talk about the best flat pedals for a road bike on the basis of their quality, material and make, durability, etc. The ones we're listing here are all tried and tested by us on various metrics. So we hope to offer you the best insight into the matter of selecting the right accessories for your bike. Here is our view on the best flat pedals.
Best Flat Pedals for Road Bike – Review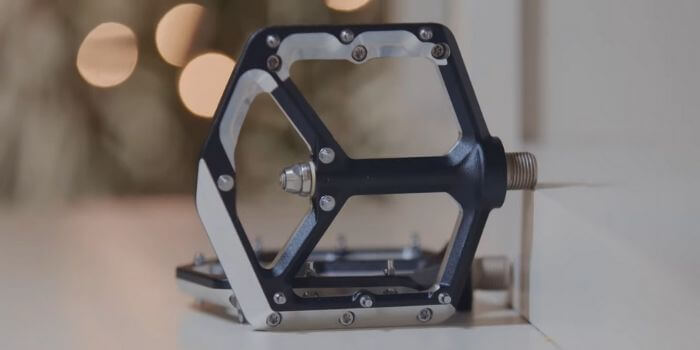 It is amazing how bicycles convert mechanical energy into rotational energy, allowing you to cruise through busy roads and pavements.
However, to apply the force, you need to rely on pedals. A good quality pedal makes the ride much more comfortable; hence we have brought together some of the best pedals in this list.
FOOKER MTB Pedals Mountain Bike Pedals
You have probably come across bikes with pedals that are good for nothing. You would keep peddling, and all of a sudden, your leg would slip, injuring your thighs and feet.
However, the FOOKER MTB pedals are far from such issues. Your younger version would jump up and down from joy if they ever got their hands on this small item.
It has a synthetic covering that creates a sticky base for your bare foot or shoes.
So, even when you are peddling with much speed and force, your feet will stay on the pedal.
Moreover, the grip on this bike is so strong that your shoes can be covered in dirt, but you can still manage a flawless run.
These pedals also come in an assortment of bright funky colors. So, whatever your bikes aesthetic may be, you will find a suitable pedal from this range.
You can get all of that plus hassle-free installation when you purchase the FOOKER MTB pedals.
Main Features
Related Guide: Best Bike Seat for Your Balls
SHIMANO PD-EH500; SPD Bike Pedals; Cleat Set Included
It is an easy mistake to think that metal pedals are more slippery than usual. So, people tend to avoid attaching them.
However, we are here to tell you that even though Shimano PD-EH500 is a metal product, it can still provide superior protection against slip and slides.
It has a unique rotating mechanism, which lets the user immediately regain balance on the add chances that their foot does slip. Thus, it is the perfect product for mountain or rocky terrain bikes.
Because no matter how much grip a pedal can offer, rocky terrains will always cause your leg to move from the pedal.
So, a rotating unit makes things easier. Moreover, you can add or take clip-ins away for customized control.
The pedals are durable and lightweight thanks to the high-quality material.
Main Features
Suggested Guide: Suunto vs Garmin vs Polar
Puroma Mountain Bike Pedal Nylon Fiber Non-Slip 9/16-Inch Bicycle Platform Flat Pedals
As we mentioned earlier, it is impossible for your feet to not slip while riding in bumpy terrain.
So, the smart decision is to get a product that can counter slipping instead of only looking for additional grip.
So, we also recommend you check out the Puroma mountain bike for the purpose.
It has an excellent structure that makes resting easy. The bearing is quite flexible, and when you step in an awkward position, it immediately rotates to keep balance.
The product also comes with replaceable hex-heads in case the current ones incur damage.
Moreover, the cleats, replaceable threaded pins, and bearings are extremely easy to install as well.
Thus, it is a sturdy product that undoubtedly improves how you handle and paddle through rocky situations.
Main Features
OneUp Components Composite Pedal
The pedals do more than just helping you convert energies and ushering the bike forward, it provides you a comfortable resting position and also helps you to maintain composure.
However, what many people might overlook is how pedals also absorb shock from impact.
So, if you have been feeling more pressure on your legs after a bumpy ride on the mountain, you might need the OneUp composite pedal.
It is a flat pedal that provides a spacious surface area for your foot. So, you get ample wiggle space, and slipping reduces to a minimum.
The unit has small spikes that act as shock absorbers. They also provide a better grip to the shoes.
However, you need to break-in the product. That means the pedal feels more comfortable after you use it for a few times.
The product is also rugged, and riders who hike with bikes will love its consistent performance.
Main Features
ROCKBROS MTB Pedals Mountain Bike Pedals
Sometimes pedals having just the small bit of extra surface is all a mountain rider needs.
As it is no surprise, that rocky terrain will cause the bike to jitter, meaning the user's leg will become unhinged naturally.
It will not matter how much pads and shock absorbers the bike pedal has; a small surface area means more chances of accidents. Hence the ROCKBROS MTB comes with extra-wide 4.1-inch platforms.
More space means more of the surface area of the shoe fits on the pedal. As a result, extra features such as synthetic rubber pads and shock absorbers work better on this product.
Even though the size of the unit is comparatively wider, the bearings are of standard dimensions.
Hence, several known bicycle brands are compatible with this item.
Main Feature
SHIMANO PD-M8040SM Pedals
Pedals really do not have to be that high-maintenance. Unfortunately, several models by different brands require extra care and protection for them to last for a considerable amount of time.
However, if you want low-maintenance, easy to use pedals, check out the SHIMANO PD-M8040SM.
The wide pedal with spikes and texture do not let dirt or water accumulate on the surface.
It also has sealed ball-bearings which restricts water from pooling. Thus, the product remains rust-proof. However, extreme bumps can easily cause the skid-pins to break or fall off.
However, you can easily replace them, which is why they are so easy to maintain.
It is also easy to adjust to this pedal because of the dip in the middle. This feature helps the feet to sit comfortably without having to apply pressure.
Moreover, these flat pedals look cool because of their unique double-surface design.
Main Features

Conclusion
We hope this list of best flat pedals for your road bike was practically insightful and helpful for you in deciding the design, make, and model of pedals that could actually work for you based on your usage requirements and preferences. You might have noticed that small features like reflectors, pins, make and material, etc.
could have a significant impact on the performance and durability of the pedals. It's these factors that make some pedals better than others. Also, these products are available in a somewhat wider price range.
It would mean that whatever your budget, there would be an ideal product for you. So, simply look at all these features we discussed here before finalizing your product. Also, if you think we missed out on any great product or if you have any recommendations, do let us know in the comments!